Contact us
Add: R607, Teli Building, Shuibei 2nd Road, Luohu, Shenzhen, China
Tel: 0755-25512007
Fax: 0755-25512007-2005
Email: sales@skwtech.com
Product show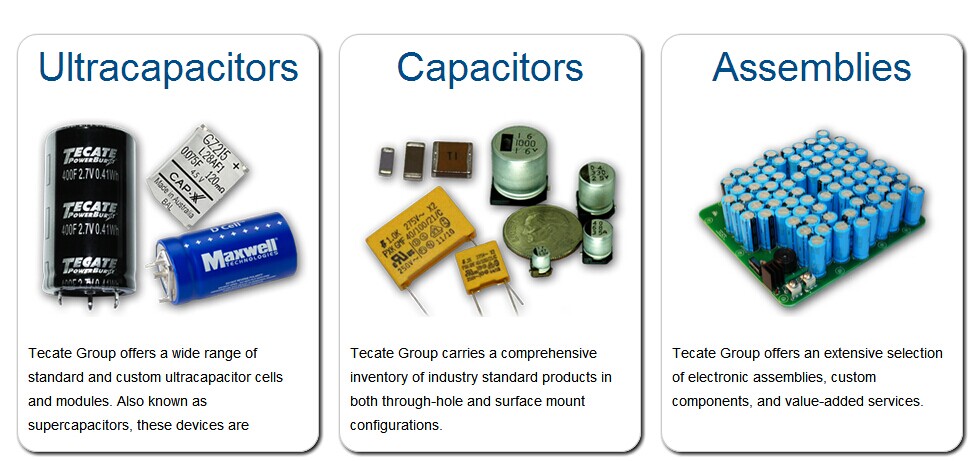 The Tecate Group is a global supplier of electronic components and assemblies. The company is comprised of three operating divisions: ultracapacitors, capacitors and electronic assemblies. From its corporate headquarters and distribution center in San Diego, California, as well as from stocking locations in Asia and Europe, the Tecate Group supplies high quality ultracapacitors, capacitors and electronic assemblies to customers worldwide.
History
Tecate Industries was founded by Ralph Scarano, an electronics engineer and entrepreneur with more than 60 years' experience in the capacitor industry. With the vision that capacitors could be cost-effectively manufactured in Mexico, the company selected the border town of Tecate, BC, Mexico as the location of their first manufacturing facility for their new company. This was one of the first manufacturing arrangements that are known today as a "maquiladora" or twin plant facilities.
In 1987 a new division, Tecate Products, was founded to meet the needs for contract manufacturing and full turn-key design for the audio and automotive industries. Within a few short years Tecate Products received QS9000 certification and built a client list that included eight of the ten largest national speaker manufacturers and the three major domestic automakers.
A third division was added to the Tecate Group in 2004 to begin marketing ultracapacitors and design and build custom ultracapacitor modules. This unique technology used for short term power requirements lends itself very well to module design as most applications require multiple components and active or passive balancing circuitry. Tecate has pioneered the concept of off the shelf modules which allow customers to test the technology before a custom module is designed. Design engineers worldwide are exploring ways to use ultracapacitors as a green energy source instead of, or as a supplement to, batteries. Tecate Group launched an on-line store as part of its web site to support design engineers' need for quick delivery of small quantity orders. Currently Tecate Group offers Maxwell Technologies, Cap-XX, and Tecate's own PowerBurst® brand of ultracapacitor cells and modules.